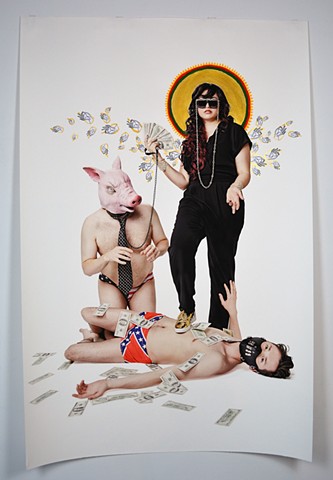 Lakshmi, Goddess of Wealth
From the series "How to Be a Monster"
Pigment print on bamboo paper with flashe paint and collage with performances by Jacob Young and RLB, and photography by DG
66 x 44 inches
2015
"But as E.H. Gombrich has taught us in another context, the 'innocent eye' is an illusion, for what we see is coloured by our cultural expectations. To put it slightly differently, when the West turned its cultural mirror toward the Other, what it saw reflected in it was its own Self."
--Partha Mitter, Much Maligned Monsters: A History of European Reactions to Indian Art
The aesthetics of this project are a collision of the past and the present as well as "East" and "West" -- the goddesses take on traditional poses and gestures that reference complex histories while simultaneously being legible to a broader audience through their use of pop culture imagery and references.
Please click here to view the entire How to Be a Monster series and read more about the project.