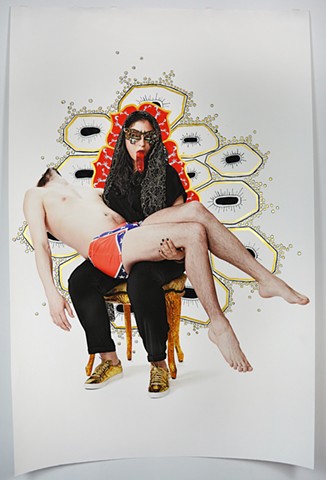 The Goddess Kali as Pietà
From the series "How to Be a Monster"
Pigment print on bamboo paper with flashe paint and collage with performance by RLB and photography by DG
66 x 44 inches
2015
"I watched this being who had erupted from my brow get on her knees, open her mouth, and drink the red river that surrounded us. With every drop of blood, she became more excited, her black skin more radiant. At one point she looked up at me, smiling with all her teeth exposed, her red tongue dangling, and I understood that she hadn't manifested to kill. It was pleasure she sought, the sweet savour of life.
It was at that moment that I recognized her as myself
Kali, I whispered."
-Vivek Shraya, She of the Mountains