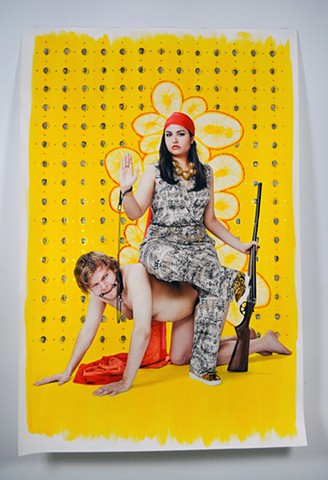 The Goddess Durga as Phoolan Devi
From the series "How to Be a Monster"
Pigment print on bamboo paper with flashe paint and collage with performance by Jacob Young and photography by DG
66 x 44 inches
2015
"The monster is that being who refuses to adapt to her circumstances. Her fate. Her body"
- Bhanu Kapil, Incubation: A Space for Monsters
For this project, I performed as versions of Hindu goddesses that have become incarnated in our contemporary culture. They are infiltrations, taking on the cultural vernacular as their own while also inhabiting and queering the dominant culture's imagination of "the Other."
The project took two seemingly disparate concepts as starting points, creating a conceptual collision. The first was officer Daren Wilson's grand jury testimony on the shooting of Michael Brown where he said Brown "looked like a demon" the second was Partha Mitter's survey of western writing on South Asian art, where he shows that the very act of "seeing" is culturally constructed, and that when western travelers encountered South Asian art, they described western artistic depictions of demons and monsters in their writing, obscuring the reality of what was there. This project plays with the idea of the "other" or outsider as monster or demon, poking fun at it while also revealing the very real threats to the dominant culture that othered bodies possess.